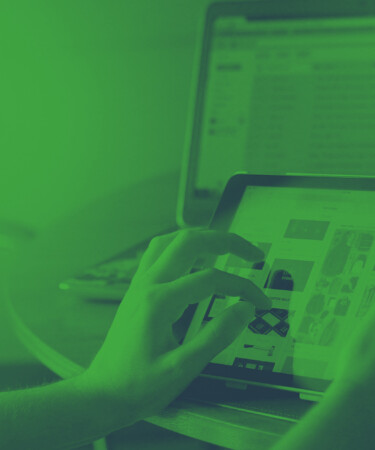 Freedom in the Digital Age
39 cases
OUR MISSION
We advocate for a digitalisation of our society that expands people's freedom and self-determination. That is why we go to court against surveillance laws that place people under general suspicion and fight against any steps that pave the way for comprehensive surveillance of the population.
WHY WE STAND UP FOR DIGITAL FUNDAMENTAL RIGHTS
Which problem are we addressing?
The government's understanding of "security" is lopsided. Parliament constantly endows the police and intelligence services with novel powers. These authorities can act earlier and earlier, more forcefully and more uncontrollably against those they consider dangerous - often members of marginalised groups. Together with new digital possibilities to monitor and classify people, this threatens our liberties on an unprecedented scale. This danger is systematically minimised by the government. And even beyond security law - e.g. when dealing with health data - the government does not show sufficient respect for informational self-determination.
What precisely are we doing to solve the problem? What is the GFF's role?
We take legal action when the government places people under general suspicion, enables secret and unprovoked surveillance or paves the way for comprehensive surveillance of the entire population. Democracy needs safe spaces in which people can develop freely and unobserved.
Show more

Control of the work of security agencies rarely keeps pace with their increasing powers. It is precisely when authorities act without being noticed and collect personal data on a large scale that comprehensive control based on rule of law values is needed. This is one particular issue we are concerned with when taking security laws to court.

In addition, we go to court against systematic infringements of personal freedom, bodily integrity and the right to life, for example when the police are permitted to intervene earlier and earlier or to use military weapons at the domestic level.

We also oppose the use of dangerous surveillance technologies, whether by the government or by private individuals. We are critical of the hasty use of self-learning algorithms, for example in intelligent video surveillance. We fight in court to ensure that only technology that is safe for fundamental rights is used and exported.
Which rights do we promote?
Article 10 of the Basic Law protects the secrecy of telecommunications, i.e. our communication between two persons. In addition, the Federal Constitutional Court has derived two specific fundamental data protection rights from Article 2(1) and Article 1(1) of the Basic Law: The right to informational self-determination provides that in principle, everyone decides for themselves how their personal data is used. The right to confidentiality and integrity of information technology systems, or fundamental IT right, protects our smartphones and computers from access, e.g. by state trojan horses. These rights are the basis for preserving privacy and the intimate sphere even in the digital age.
Show more

When the government violates these fundamental rights, those affected usually do not find out about it. This makes it much more difficult to protect these rights. If you are unaware of a violation, you cannot take action against it. To protect privacy and our communications in the digital age, we often have to take direct action against laws that do not sufficiently respect these rights or outright undermine them.

Even outside the digital sphere, the work of the security authorities affects important fundamental rights protected in Article 1 and Article 2 of the Basic Law. An electronic ankle bracelet restricts the general right of personality, preventive detention restricts the right to freedom of the person, the use of force - especially weapons - encroaches on the right to physical integrity. In extreme cases, the right to life and human dignity are at stake, which are endangered by new security laws.