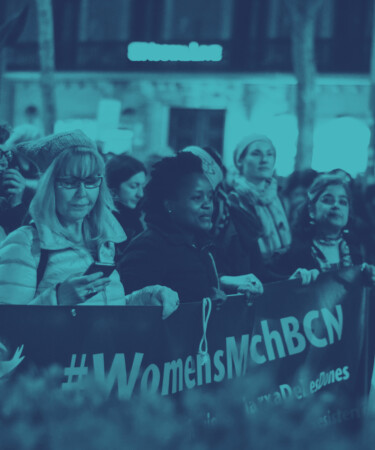 Equal Rights and Anti-Discrimination
18 cases
OUR MISSION
All people have a right to live free from discrimination. We take action against laws, authorities and companies that discriminate, exclude or stigmatise.
Why we stand up for equal rights and anti-discrimination
Which problem are we addressing?
"All people are equal before the law", according to Article 3 of the Basic Law. The constitution hence promises not only formal equal treatment, but also de facto equality in real life. But this promise has not yet been realised. Women receive less pay than men for the same work. Queer parents do not have the same rights as heterosexual parents. People of colour experience significantly more unprovoked police stops than white people. Muslim people face stigma and exclusion. People with disabilities face barriers that impede and prevent their equal participation. Far too many people in Germany know what it feels like to be devalued, excluded and attacked - simply because of who they are.
What precisely are we doing to solve the problem? What is the GFF's role?
We use the law to fight for the fundamental right to equality – against exclusion and discrimination. We take action against laws, public authorities, companies and organisations that discriminate against members of certain groups. Jointly with civil society organisations and activists, we fight for landmark cases in order to establish justice for all. In doing so, we also support affected individuals in telling their story and thus reclaiming it. By pointing out wrongs, we stimulate social discussion. We support the important work of civil society partner organisations in counselling, policy advice or advocacy through strategic litigation.
Which rights do we promote?
The general principle of equality and the prohibitions of discrimination derived from it are enshrined in Article 3 of our Constitution as well as in the EU Treaties. These rights also form the core of several international human rights conventions - for example, the UN Convention on Racial Discrimination, the UN Convention on the Rights of Women or the UN Convention on the Rights of Persons with Disabilities. These prohibitions are lessons learned from past crimes against humanity and were hard fought for by disadvantaged groups in the struggle for self-determination and equality.
Show more

The legal enforcement of discrimination prohibitions is often very difficult. When those affected defend themselves against discrimination, they are often confronted with the resistance and lack of understanding of those who themselves have no problems with the status quo - or who want to profit from it and maintain their own position of power. Court proceedings are expensive, lengthy and complicated. And there is no guarantee of success because German courts often fail to recognise structural discrimination. That is why it is important for us to strengthen those who are nevertheless willing to demand equal rights for all people. Together with them, we point out structural discrimination, stimulate important social discourses and win landmark decisions that help to end certain types of discrimination.