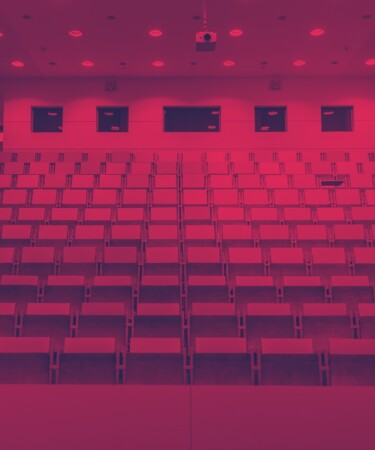 Hörsaal

von jarmoluk, lizensiert unter

Pixabay License
Expert opinion on academic freedom
How closely may universities cooperate with the industry without jeopardizing academic freedom? Our report examines this on the basis of a case study.
The cooperation agreements of the University of Mainz with the Boehringer Ingelheim Foundation from 2009 and 2012 violated the fundamental right of academic freedom. The university ought not to have entered into the relevant cooperation agreements. Agreements in the case under review, as well as in comparable cases, are subject to freedom of information.
This is the conclusion of the current expert report "University Industry Cooperation, Access to Information and the Freedom of Science", which Prof. Dr. Klaus F. Gärditz, Chair of Public Law at the Rheinische Friedrich-Wilhelms-Universität Bonn, prepared on behalf of the GFF.
A BRIEF OVERVIEW OF THE STUDY'S FINDINGS:
FREE SCIENCE CANNOT BE OUTSOURCED
The case study clearly shows that cooperation agreements between a university and private funding bodies interfere with the fundamental right of freedom of science (Article 5 (3) sentence 1 GG) if the private cooperation partner is granted real influence on scientific activities at a university research institution.
This is already the case if there is a concrete danger that the cooperation partner could use its contractual influence to control science. For example, the right of private sponsors to influence the employment conditions of scientific staff, the financial management or scientific publications by reserving their consent interferes with the freedom of science. Such far-reaching encroachments cannot be justified. In particular, the autonomy of the university to enter into research cooperations with private parties, which is also protected by the freedom of science, does not allow it to interfere with the freedom of science of its own employees.
GOOD SCIENTIFIC PRACTICE IS AN OFFICIAL DUTY
Adherence to standards of good scientific practice, which also includes sufficient independence of scientific research from the interests of the funder, cannot be dispensed with. Those who become dependent on private funding and conduct interest-driven or results-oriented research within the scope of academic official duties are in breach of official duties.
The government and the university must ensure, through appropriate organizational, procedural and material regulations, that indispensable minimum requirements for a science aimed at the knowledge of truth are not abandoned. A state university may therefore not foster structures under which interest-driven third parties are granted the power to control or co-determine appointment policies, research priorities, or publication practices.
RESPONSIBILITY TO PROTECT OF PUBLIC UNIVERSITIES
Freedom of science according to Article 5 (3) sentence 1 of the Basic Law contains not only an individual right of defense, but at the same time a positive protective responsibility of public universities to take precautions that free science is possible in the university and can be conducted without danger according to its "own laws". Research is to be protected against appropriation by third-party interests, which would impair the neutrality, distance and professionalism of research. A university that cooperates with private institutions has a qualified responsibility to ensure these principles vis-à-vis its staff and, in particular, to protect the young scientists working within the framework of a cooperation (doctoral students, post-doctoral students).
Science-relevant cooperation decisions must be subject to sufficient control by university collegial bodies, which are legitimized by the university members through election. An internally pluralistic composition must provide sufficient guarantees against decisions that are inadequate for science. If research institutions become legally independent, effective control by the university bodies must be ensured. In particular, decisions on appointments must be made autonomously by the university bodies with a structural majority of university teachers. Outsourcing or granting veto rights to private sponsors is inadmissible.

WHAT IS LABELLED AS FREE SCIENCE MUST ACTUALLY CONSTITUTE FREE SCIENCE
Public universities must not make the 'seal of approval' of free science available to cooperations that undermine the associated requirements for free - independent, non-interest-driven and reliable - research and teaching in accordance with Art. 5 Para. 3 Sentence 1 of the German Basic Law and thus at the same time disappoint the expectations that are rightly placed in independent science.
FREEDOM OF INFORMATION AS AN INSTRUMENT OF PUBLIC CONTROL SERVES SCIENTIFIC FAIRNESS
The general freedom of information claims give everyone rights to access information, which must be interpreted in the light of freedom of the press (Article 5 (1) sentence 2 GG) and the objective mandate to protect free and independent science (Article 5 (3) sentence 1 GG). Information can create transparency appropriate to science and counteract hidden dependencies.
Commercial interests in the context of a research project carried out in the framework of industrial cooperation can in fact make research susceptible to undermining the expectations of neutrality and distance placed on independent science. Therefore, as a counterbalance, there is a particular need for transparency of the conditions of cooperation, also to facilitate targeted critical scrutiny by the public and to keep possible conflicts of interest transparent. In this respect, freedom of information does not endanger free science, but - on the contrary - protects the integrity of scientific research in the interest of all those who either conduct independent science themselves or have to rely on its results.
The formal framework conditions of research cooperations are therefore in principle subject to the duty to inform and do not enjoy any protection of secrecy. Private cooperation partners agree to the special public-law obligations to which a public university is subject and must therefore accept this necessary transparency. In the case of research cooperation with a state university, any corporate interests in confidentiality therefore generally take a back seat to the requirements of transparency under objective and fundamental law. This applies all the more in the case of journalists' claims for information under press law.
UNIVERSITY BODIES AND UNIVERSITY EMPLOYEES HAVE A RIGHT TO INFORMATION ABOUT THE CONDITIONS OF COOPERATION
In order to enable the responsible university collegial bodies (faculty/department councils, senate) to fulfill their constitutional control duties appropriately, their members have the authority to demand that the presidency/rectorate provide them with the essential documents on a cooperation with private parties.
Employees of a university who are directly affected by a cooperation have the right, by virtue of the employer's duty of care, to be informed about the essential coordinates of a cooperation that affect their activities in research and teaching.
RETHINK UTILITY-ORIENTED SCIENCE POLICY
The dependence of universities on private sources of funding and the associated risks to free and independent science are also the result of a misguided science policy. This has not only dried up basic funding and thus intensified competition for third-party funding. For some time now, it has also been dominated by a science policy that measures the value of research and teaching primarily in terms of (supposed) social utility.
Those who see the main purpose of research and teaching as producing socially or commercially exploitable results drive scientists into dependencies that, in the medium term, undermine the very services that state-funded science can provide: to ensure the reliability of available knowledge through neutral, independent and non-interest-driven findings and to serve society as a critical counter-public.
The preparation of the report was financially supported by MONNETA gGmbH.
You can download the complete report (in German) here.